Today's gabbles :
"
I got swallowed by an animal.
"
"..gee, might as well digest something before getting assimilated I guess."
"So I was there, with both arms crossed, thinking about what to eat. "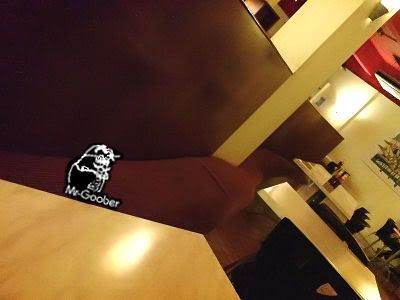 "Yeah, that's me alright.
Photo proven."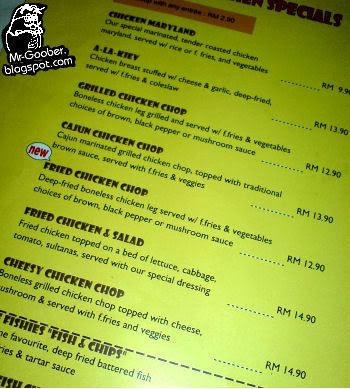 "Then it occured. Some weird
marshmallow man
gave me this piece of what they call,
das Menü
. "
"..Sure got me confused there. See, there were too many similiar
RM
on the menu,
and I didn't know what to choose. Should I go for RM 12.90, or RM13.90? Perhaps RM9.90 is more edible?"
"Without thinking too much, I went for RM14.90 and told the
marshmellow man
;"
"
I'd like to order RM14.90, which'll cost me a cheesy chicken chop.
"
"..Sir, you're confused. See, we sell the chickens, you pay the RM."
"It was too obvious he wasn't gramatically correct, so not wanting to embarass him, I held my breath until he left."
* Poof *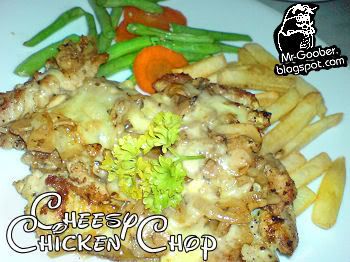 This was the only reason why I'd waste my time blogging about this whole lame post.
The
Cheesy Chicken Chop
, is truly, smackaroory!! Slurp, woop, smack!!
Carefully grilled with cheese splatted all over it, and uh..little fries and insulted long beans, I mean,
salted long beans
, it truly tasted beyond an elephant's stomach.
I don't know. They weren't too generous on the fries and beans don't cha think?

Well, What do we have for drink?

The
American Breakfast
,
as weird as it sounds, is actually just a tea.
Comes with one pack of tasteless sugar, and another pack of pirated sugar, which is tasteless as well.
The milk was a compliment, since it was tasteless too.
Oh, the photo doesn't say anything, but it was actually very big, so big it could be used as a hat -
literally
.
Question :
Okay, who in their right mind would eat a chicken chop with a tea?
Answer :
"Well, why do you think I'm still alive?"
With that, and a pat on the pod;
"Hey, it's just me!" - Mr. Goober