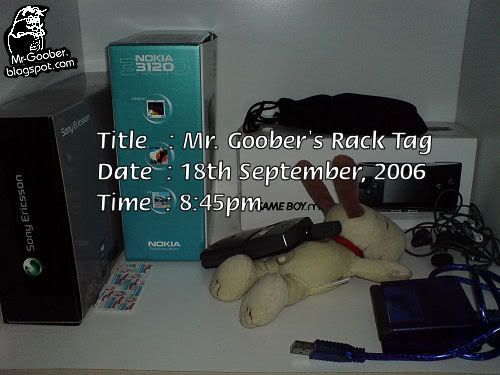 * Tick *
Uh.. it was getting a little too dark.
So why am I showing you my rack? I'll tell you why.
I WAS ACTUALLY TAGGED BY REDSPONGE
to yak all about my rack!!
Yes, you can see her rack,
it's all in
here
.
Thanks for watching.
It's been a hard work taking those pictures...
director :
Mr. Goober
cast :
Puppy Watson

- Puppy Watson
Gameboy Micro

- Rectangle Friend
Ericsson

- Old Mate
Sony Ericsson

- New Photo Mate
Nokia

- Knock a Kia
in loving memory of Tim who lost his nuts


THE END
Ouch.

My bad, I rolled the wrong credits.

Okay, let's quickly take a look through what goodies lie beneath this square rack shall we?

Um..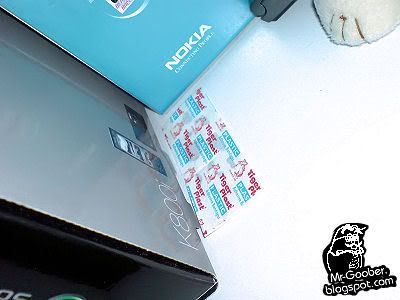 I have a plaster inside my rack, the one, and only, plasta.
It's a cute, animal brand but tested safe for human usage.
What's so special about it? Well, I once broke a whole bottle of Yomeshu drug and sharp pieces of glass exploded right into my poor toes, and these saved them! (Uh..wait, since when do I have toes again?)
Had to use these friends for many days, That's why theres only one left. The one, and only, plasta.
Hmm..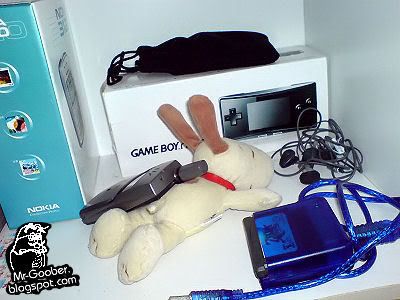 Okay,
BORING STUFFS, I CHOOSE YOU!
See that grey-like entangled thingy in the middle on the right? It's an earphone, and he's having a bad stress right now, look at how he crosses his arms! So - we better not bother him.
What about that blue plastic like box with octopusy arms? They're actually catridge readers
and writers
for mein ultimate machine...
My Rectangle Friend,
The Gameb
oy Advance Micro!
(Warning : Girls might get bored with this section. Please chew some gingseng sweets)
Yeap, something a goober cannot live without - a diminutive gadget that has enough power to play all your memorable 8-bit tv games as well as its own wide array of 32-bit games, all in the palm of your hands, Literally.
So what else do we have in there?
Oh.. the crime scene I've been avoiding..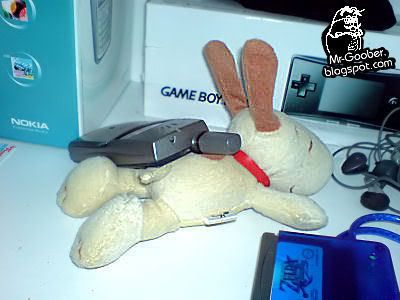 Well you see few years ago
Puppy Watson got murdered while asleep, killed by the weight of the Ericsson phone I once used.
I accidentally shook the rack really, I swear it wasn't done on purpose!
Now, let me reveal to you my eyes..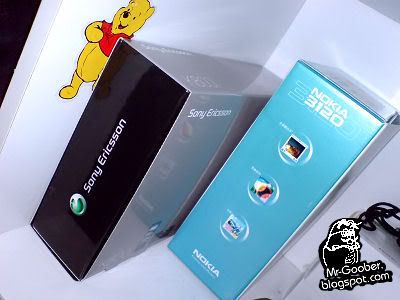 Yup, they're my eyes alright. Not that Knock A Kia 3120,
but Sony Ericsson K800.
They're my current favourites,
And they take all the photos found in this blog :)
Hey, whazzad thing near there?!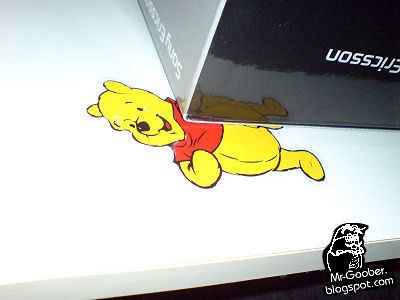 do we see a
Hidden Mickey
??
Let's rewind.... NOT!
Gosh, I'd better get some more honey before he gets mine!
p/s: does anyone of you realise all of the pictures look the same? remind me not to blog like this ever again. Doh!



With that, and a pat on the pod;
"Hey, it's just me!" - Mr. Goober